"MEN NEED ACKNOWLEDGMENT MORE THAN SEX"
I could hardly believe it when I first heard these words years ago. They came from the lips of my (male) mentor, who was not at all averse to sensual desires.
Since then, I have been making my own experiences with this realization, which was new to me at the time. The more acknowledgements I give to a man, the easier it is for me to get what I want from him. Even if I don't want anything from someone else, an acknowledgment puts a smile on people's faces, including my own. Especially in these times, isn't that what our energy is all about? Recognition, along with gratitude, is definitely a wonderful way to do that.
We take so much for granted. Is it really a given that my partner earns money, helps around the house, that he cooks, maintains the car, and so much more that we simply expect him to do? Probably because we have been conditioned that way.
However, this is not only about your partner, it is also about yourself. Because that's where it starts. What have we taken for granted? The thousands of little things we do every day are so normal that we hardly pay attention to them.
On top of that, many grew up the way I did, with the motto "not scolding is enough praising".
You too?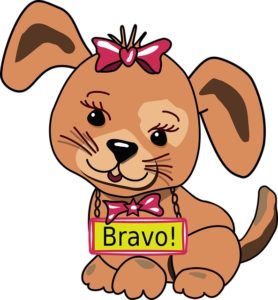 With small children, you still acknowledge every little thing they accomplish: the brabbling, when they begin to crawl, when they stand up for the first time and try to take steps. When the first picture is drawn for mom and dad, the child is showered with how great it turned out, even though all the adult eye sees is scribbling. Yes, all is still fine in the world.
The turning point comes around the time the child starts school. The bar is raised. Now it's all about performance, about doing things right. Then, usually, the recognition for the "little" things is lost. Now the child has to work hard and do really great things to be acknowledged.
So it's no wonder that we humans crave acknowledgement when we receive so little or have to do so much for it.
ACKNOWLEDGMENT HAS TO DO WITH LOVE.
It all starts with yourself.
How often do you acknowledge yourself and for what? Is it just the things you consider great, or do you notice the everyday things as well?
It's time to explain what I mean by acknowledgment.
The way I teach it, it's always about something someone has done, without judgment.
It follows that we can acknowledge anything that is. No matter if we call it good/bad, right/wrong. It is not about judging, it is about observing and perceiving.
THE OTHER PERSON FEELS SEEN.
When you start giving more acknowledgments, your relationships will become more harmonious and you will receive your wishes from others more quickly and easily. This applies to the private world as well as to the business world.
That's why I practice giving acknowledgments with my clients very often. Especially in my communication workshops. Because it usually takes some practice, since very few people are used to giving acknowledgments and certainly not for themselves.
AND THAT'S HOW IT WORKS
An acknowledgement should be as short and precise as possible.
It is about something someone has done.
Remember: You can acknowledge anything, without evaluation.
Consider also, and especially, the supposed self-evident.
Very important: It must be honest!
START WITH YOURSELF.
These are mine:
I acknowledge myself for brushing my teeth today.
I acknowledge myself for making my breakfast.
I acknowledge myself for sitting on the balcony writing this blog article.
I acknowledge myself for not making it to write this article yesterday.
I think of 100 other things that I could acknowledge myself for right now. However, I don't want to go beyond the scope here. In the beginning, it wasn't like that at all. In our practice sessions, I had to think for a long time about what I could acknowledge myself and the others for. I was always looking for something special. Today I know that this was my conditioning.
It requires attention: to do tasks attentively, to observe others attentively, because otherwise you don't even know what they have done.
HERE ARE A FEW MORE EXAMPLES OF RECOGNIZING SOMEONE ELSE:
Thank you for taking out the trash this morning.
I acknowledge you for coming to our meeting on time.
I love that you washed my car today.
I see you didn't do your homework.
It doesn't work that you didn't keep our agreement (name exactly which one). It now has this consequence….
Just try it out and see what it does to you when you start to acknowledge yourself for all that you do throughout the day. And then test it on your fellow human beings. Maybe one or the other finds it a bit strange at the beginning, because they are not used to it. But you will find out that if you open your heart and go through the world with open eyes, you will see opportunities worthy of being acknowledged at every corner.
ACKNOWLEDGEMENTS HELP IN MANY PLACES
In partnership
In raising children
At work
At the cash register
etc.
They raise your own energy
You can shift the energy of a team with it
You get what you want from the other person more quickly
It is also nice to do an appreciation ritual with your children before going to bed.
ACKNOWLEDGEMENTS ARE THE KEY TO A HARMONIOUS AND SUCCESSFUL RELATIONSHIP WITH ONE ANOTHER.
Why don't you let me know in the comments what has changed for you now that you are applying more acknowledgements in your environment.
If you want to dive deeper into the topic, feel free to contact me.
Also check out my last blog article, "Problems in Your Relationship – How you create new intimacy" . It started with the fact that partners often don't feel appreciated.