We made it! Happily we arrived back at our starting point.
My friend Brenda wanted to show me around while I was staying at her house in Austin/Texas. She picked the "Enchanted Rock" near Fredericksburg to go on a little hike.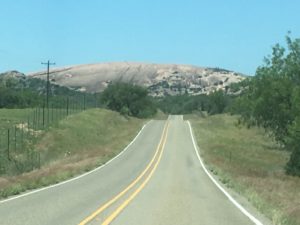 We drove about 2 hours west, through a beautiful lush green landscape: Pretty flowers at the curbside, vineyards and cows sleeping in the shade of the trees. Almost no other cars. Just beautiful to look out of the window! Being European I am always impressed by the bigness of this country.
We arrived at the entrance of the park and went to the office to buy our tickets. The lady recommended a way we could do in our time frame and where we would have a fantastic view. She made an effort to ensure us: "You can make it!"
Outside, I realized It was the only trail on the map marked as "challenging", 45 min one way.
At first I was moaning if this was going to be ok for me, untrained as I am. Brenda is a sporting ace. Anyways, we went on this path with a class of pupils and others.
It was steep, but we did it in 20 minutes. Not as bad as I suspected. 🙂
Though, I was a bit worried about my knee looking ahead to the descent.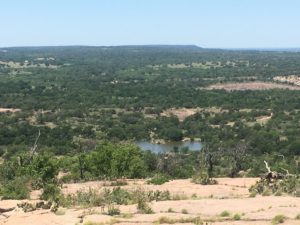 The beautiful view let me forget about my apprehension. Those wide open spaces! Stunning! We were impressed and wanted to share the view with a Facebook live. That wasn't easy because of the reception and the wind in the microphone. Eventually it worked out.
When we had seen enough, we wanted to go down. But where was the way? No signs. Only one huge rock. Usually I have a good sense of orientation and lead Brenda to where I thought we climbed up. But I got suspicious after a while because there was nobody. On our way to the summit there were so many people in both directions up and down, that I even said to Brenda: "What a pity, I'd rather be alone here with nature instead with busloads of folks." – Haha, 'Ask and you are given", the universe's reply was instant. 🙂
It took us a while to decide what we were going to do. We both were uncertain, however we didn't want to go up again. We could see our destination. Ok, not exactly, we saw houses and the road and a path that seemed to lead into this direction. What we couldn't see, was if we were able to reach that path or if it was blocked by a canyon or brushwood.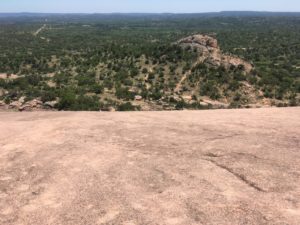 We decided to try it.
It was steep! Even steeper than the way up. You cannot believe how grateful I was for my new hiking shoes! They seemed to glue on the rocks. While Brenda was walking quite fast, I moved cautiously and slowly as a snail, fighting with my upcoming old fear. Talking myself out of it. I was wondering about how this anxiety that my mother planted in my early childhood was still present. But it was way better than it used to be. Earlier I would have stood there paralyzed. No, I wouldn't even gotten up there, which would have kept me away from having this amazing views and experience. Actually this fear-program deprived me from a lot of great experiences throughout my life. I am happy to have tools now and to be able deal with this and be bolder.
Meanwhile we found ourselves in the middle of really big boulders. I couldn't see Brenda any more. I called her out several times. Finally I heard her shouting to me which way she took.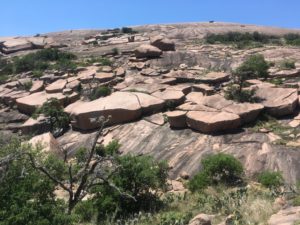 Now we needed to crawl through a low arch of stone. Behind that it was not clear if we could reach the path which seemed to be so near. This time I took the lead, we hacked through some bushes and voilà, there was the path. From there it was an easy walk to our car.
The moral of the story that translates into your business and life in general:
Don't let your fears rule your life! If you want to break out of your normal boring existence and have an adventure, you need to overcome yourself and your limiting beliefs and fears. If you don't do so, you deprive yourself from so much beauty.
Stay calm and cool-headed in delicate situations so that you can take the right decisions.
When fear creeps in, don't be paralyzed, move.
Follow your own pace. Rather drive a lower gear even if the other(s) are faster. If they care for you, they'll wait or you meet them at the destination.
Team: Being in an adventure with somebody else definitely helps. Everybody has different qualities and knowledge to handle situations.
You can share responsibilities: One time Brenda took the lead, another time I was the leader.

You can use the coaching tools I teach in almost every life situation:

Observation – Distinction – Feedback – Acknowledgement – Yielding
They helped tremendously there on the rocks.
If you want to know more about these coaching tools, how to use them so that your life gets easier and better, I invite you to check out our retreat "Sex Love & Money" in Wales from July 13th – 15th, or contact me for a complimentary Discovery Session to find out how I can support you.