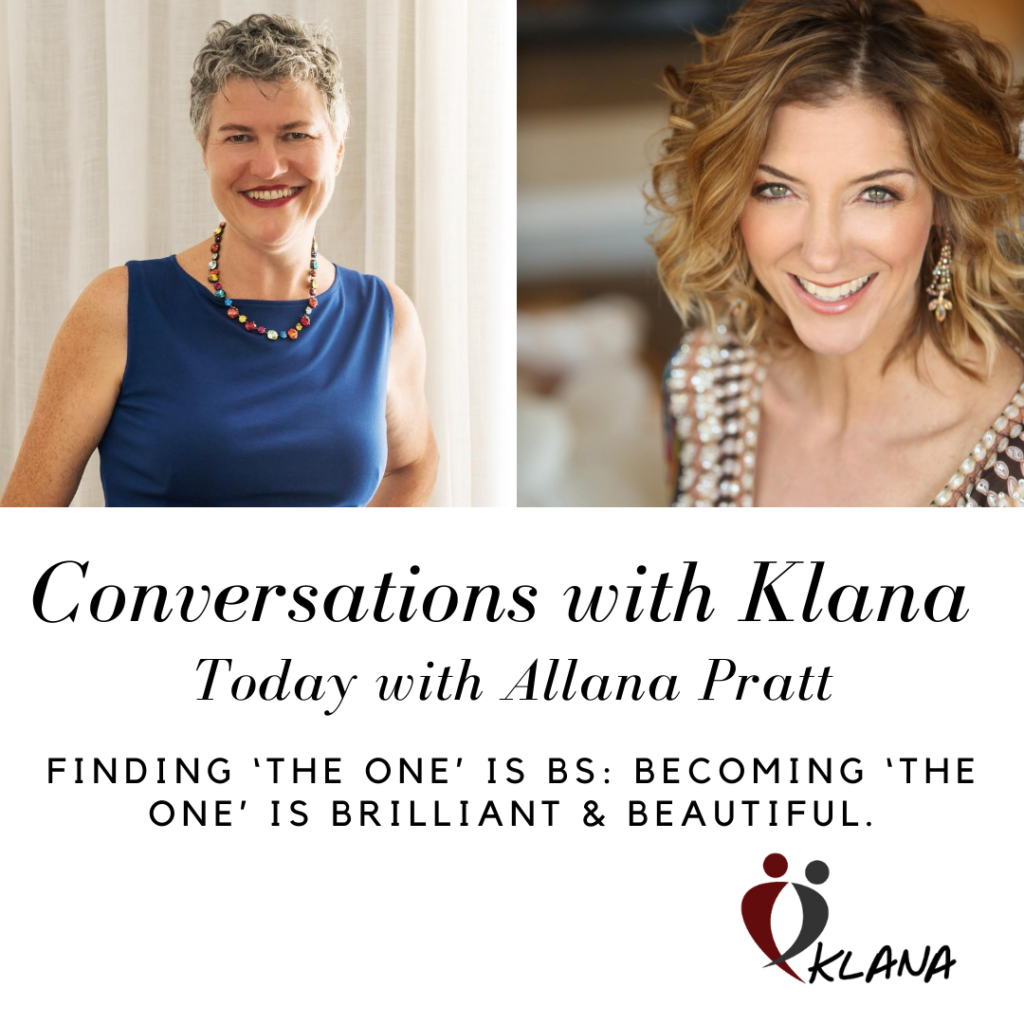 Intimacy Expert, Allana Pratt is a go-to authority for those who have suffered heartbreak and are ready to live unapologetically and attract an open-hearted, ideal relationship.

A certified coach with nearly 5 million viewers on YouTube, Allana offers private, group and online coaching programs for singles and couples to help her clients develop a healthy, intimate relationship with themselves first which naturally attracts and enhances their ideal partnerships.

This Ivy League grad is the author of six books and hosts the edgy podcast Intimate Conversations. She has been chosen as an Icon of Influence, is a columnist for the Good Men Project, and has been featured in Huffington Post, People Magazine, and Forbes and on CBS, ABC, TLC & FOX and The Jenny McCarthy Show.

Her new book is Finding 'The One' is BS: Becoming 'The One' is Brilliant & Beautiful.  
We covered
That Allana discovered a

different knowing in her body than in her mind

Her proof that

our beliefs create our reality

When she changed her attitude

towards herself and her body,

everything shifted

What she did to feel and be treated like the goddess

she really is

How she created friendship with her body

That with integrating the feminine and the masculine inside you have

more peace,

And that from this place we can

lean into disagreements and conflicts

in a relationship

That

it's ok if partners have different opinions

Discover the gifts in the challenges that life gives us

When one touches the place where there is

no more resistance, blame or fear

, everything calms down and you never go back

You are actually the

safest

when you are all the way open

Why

it's not a good idea

to seek from being empty and think a partner will fill in the void

Allana shares her excitement about her new inclusive dating app

:

HeartMates Coming Sept. 2020.

Be on the lookout!
Connect with us
Allana
Website: www.AllanaPratt.com
Contact info for interview: 760-636-4061 (Landline) | 323-334-5232 (Back-up Cell)
Social media links: Instagram: @allanapratt Twitter: @allanapratt Facebook: https://www.facebook.com/coachallanapratt
Youtube: https://www.youtube.com/user/AlanaPratt
Podcast: "Intimate Conversations"
Klana
Website: klana.us
Connect on Facebook
YouTube/klanatv