"So, When Is It Wrong To Talk About Sex And Pleasure In The Same Instance?"
My short answer: never, unless you're a very large media outlet like Facebook and haven't trained in what is pornography and what is sex education. In a free society, sex should be as easy to talk about as the weather!
I give myself permission to talk about sex as though it's really important – as important as politics and elections and human rights and stopping global warming and ending poverty and curing cancer.
SEX IS THAT IMPORTANT
                     – Barbara Carrellas
Today I had a very interesting experience with Facebook. For the first time, I wanted to publish a paid advertisement from my fan page "Klana" (I would be very happy if you would "like" my page 🙂 ). It was about an invitation I wanted to post for a free webinar with my coaching colleague: Claudia Bendowski, on Ibiza. We both talk about how we design our life, full of joy, on our dream island. This has nothing to do at all with my theme of eroticism, as you can see here: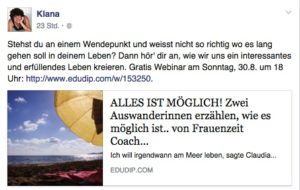 Translation: "Are you at a turning point and do not know how your life should be in the future? Then listen to our webinar! We will be discussing how we create our interesting and fulfilling lives. Free Webinar on Sunday 30.8. at 18 h."
I received an email from Facebook in which they point out to me that "… the content of this advertisement is prohibited. Advertising is not allowed for the use of products or services for adults nor for sale. These include toys, videos, publications, live shows or products for increasing potency. Advertisements for family planning and contraceptive methods are allowed under the condition that they meet the relevant target group requirements." (I had put the age of my audience 35 years and older)
This is a complete mystery to me, as to what our webinar has to do with the points mentioned above by Facebook support. Maybe someone prejudged simply on the basis of the contents of my page, but did not read or understand the post to be advertised? So when I clicked on the attached link to the advertising guidelines, I came across several examples that serve to illustrate the Facebook rules. My hair stood on end!
Acceptable:
"Free condoms at your local student health center."
"Practice safe sex with our brand of condoms."
Unacceptable:
"Condoms to enhance your pleasure."
What? How should I understand that?
In a scientific or in a completely sterile medical context, one may communicate, but as soon as it is about pleasure you can not? What kind of world are we living in? To have pleasure during sex is apparently disreputable.
This makes me even more aware of how important my work is and that of my colleagues, to put sexuality in perspective as something that is a natural, organic exercise, which may indeed give pleasure! Finally, none of us would exist if our parents had not had sex with each other. And I hope that those two had a lot of fun doing so! 🙂  
For some of my clients, it is a big step to come to me and speak openly about their issues. As a rule, the bias dissolves very quickly when they see how easy I'm talking about sexuality. Not infrequently I get feedback like this:
"… And the conversation about sex is so normal, that's nice to see, and I am very glad that I can now take that into my daily life. I did not think I could ever talk about this, but secretly I always wanted to. And it's really easy. I have already tried and talked to other women about it. This is also new in my life, to talk openly about sex. About all the things you have in your head anyway."
What will happen to you? Are you giving yourself permission to talk about sexuality? Or do you need a little assistance to get really loose?
Sensual Greetings
Klana