A Bride Without Orgasm
Guest article from Alexandra Haas – Special Moments, Zürich
The girls were really on it.
They were enjoying their hen night, the Prosecco flowed freely, the catering was delicious, and everyone was in a playful mood. They had booked the deluxe package and were enjoying it to the fullest. I tried to keep up though, without the alcohol. There were still so many questions on the toys and sex in general, and in general everything that had to do with a relationship or single life.
In all the excitement, the bride-to-be took me by the arm, pulled me out into the street and away from the store. She had to ask me something very important. Finally we stopped and she looked at me as if it were a matter of life and death. "Is it possible," she asked me, "that I could have had an orgasm and not really know it?"
So I stood outside on the street with a young woman and a giant question. It was clear that she wanted not only an answer to her question – she probably wanted to know much more. And I estimated that we had ten minutes max until the other girls would turn up and pull us back to the store. So I had to act fast. And be very pragmatic!
First of all, I had to calm her down. Of course it was possible that she has experienced orgasms without recognizing them as such, I told her. "Orgasms come in all sorts of shapes. The typical variation so to speak, was the Matterhorn variant: steep rise, peak, steep descent; although the best known, it is by no means the only one ".
The good news is that everything is quite possible, especially when it comes to the body. A woman can learn to enjoy orgasms – it just needs time. It was clear that the future bride probably had a kind of deadline in mind for the upcoming wedding. That initially sparked some stress. But the matter at hand was about something completely different.
"The most important thing is you and your husband," I said to her. That they both would have a good time, for a long time. After all, they had decided to manage their lives from now on together. "Sex is not something you perfectly master at the start of a marriage. Sex is part of the relationship, like love, trust and all the other beautiful and challenging things. And sex is so much more than 'just' the orgasm. That's only a small part of the whole experience – a few seconds maximum, right?
But if the orgasm is an important issue for you, then you should care about it. For yourself, along with your partner or with the help of a specialist. I can give you some contacts."
A few girls peeped out of the store and called for us. It had not even been five minutes. We called back that we were doing well and we would be back soon.
So I had to hurry. And therefore wanted to give a few concrete tips, with which she could effectively start to make a move. So I explained to her that the regular "production" of orgasms, as a kind of training, with time, leads to something special.
We all have two thresholds.
The first one is when we get aroused, the second one when we have an orgasm. The two thresholds can be at different levels for each person. For example, there are people who are aroused very quickly, but have to wait a long time to orgasm. With others, it takes a long time until they are aroused, but then very quickly for them to have an orgasm. Or it takes a long time until they are aroused and then it takes still a long time until they have an orgasm. There are very many possible combinations.
The important thing is: the more orgasms we have, the more these thresholds come down. Which means, if over time we get aroused faster, we have the orgasm faster. The training, which leads us to more orgasms may look different to everyone and, of course, has to fit the person."
The girls called us again and attempted to retrieve us. We succeeded once again in putting them off.
"Running a sex shop, I naturally best know about how to use sex toys to achieve this," I told the young woman. "Vibrators have the wonderful characteristic that they can stimulate very long, very evenly (which means: The woman can really focus on herself and will not be distracted by anything) – and you will have the power you need at your disposal. A few toys in my range are so strong that woman practically cannot escape. They allow for self orgasm training because every woman can set her own pace. "
I started to get cold and I wasn't quite sure how much of my information permeated the Prosecco. For me, it was important to point out in the short time a number of ways for her to achieve orgasm, so that the future wife could choose something for herself, which suited her and her new life. The main information for her should be that there are ways, even several, that the body can learn an awful lot, but that it takes time. This meant that the orgasm issue was not simply be "done" for her before the wedding.
Finally, we returned to the store. After a big hello we stole away again for a few seconds in which I gave her our Orgasmic Yoga brochure and a therapeutic contact and showed her a selection of toys.
The party went on, the Prosecco flowed on, and then the whole group moved on to the next location, a trendy club in Zurich. No speed dating, but speed consulting. I for one was utterly exhausted.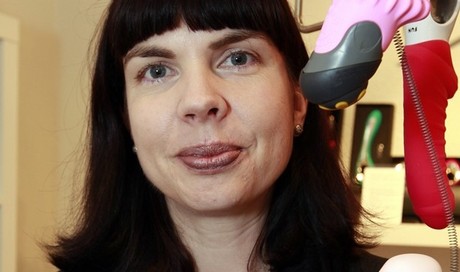 Alexandra Haas about herself:
"I am a linguist with a university degree, who is passionate about leading an erotic shop, because I have the courage (or I am so crazy) to admit, that sex is the most important topic in my life."
Alexandra Haas offers talks, workshops and toy-parties and has an online sex shop: www.specialmoments.ch
Thank you Alex!
(The links are added by Klana 🙂 )
Sensual greetings,
Klana