What you think about yourself and your body determines who you are
I sit on the promenade in Santa Eulalia with a tasty ice cream and watch the strolling people and the turmoil on the beach. The least women comply with the standard image of beauty: slim models that smile at us from billboards and advertising photos. Also I see only occasionally a man who comes close to Adonis.
Most walk in pairs or in families with children. It calms me that it obviously works, to find a partner, even if you don't have ideal measurements.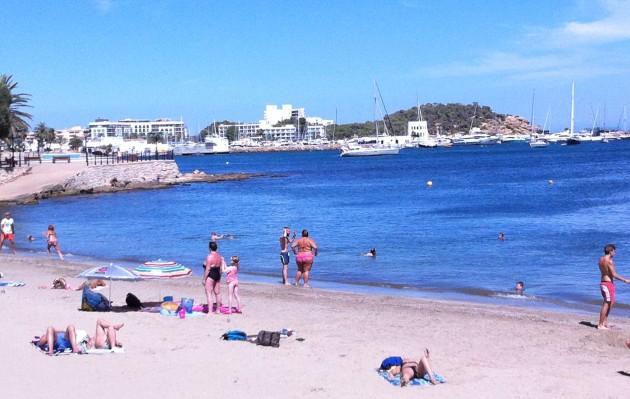 So, my own story about body image came into my mind and I thought, why not write this blog post about that!
It started when I was a teenager. Most boys were smaller than me. Sunday afternoon, there was disco at the dancing school. We sat on the edge of the dance floor, waiting to be asked. If at any time a boy dared to speak to me, I could see how literally his mouth fell open when I got up with my 1.82 m (5 feet 10 inch height) in front of him. That didn't feel good at all. Neither for the boy nor for me.
This happened several times and unfortunately imprinted itself so negatively in me, that I firstly no longer went to the disco, even though I liked dancing very much, and secondly this spilled over into the rest of my life and accompanied me in the coming decades. Other women were pretty and feminine. They danced like elves. No wonder that they were swarmed by men! And me? I found myself unfeminine, plump and unattractive. I felt too big, too fat and my breasts were too small.
My attitude towards myself had fatal consequences. I was so busy feeling all wrong and ugly, that I did not even notice when someone was interested in me. Because that did not fit into the image that I had formed of me, so this could not be possible.
The Turning Point
It was not until my late forties that I managed with the help of my coaches, to put my self-image straight. I realized how destructive I was there. Fear and security needs were great obstacles. They had prevented me in the past from much of what might have brought me more fun.
Now, I began to learn to love myself!
I overcame my fears and made decisions that brought me out of my comfort zone.
Piece by piece, I discovered who I really am. And that did not fit with what I had previously thought about me. Among other things, I discovered that touch is totally mine. People say they feel like in another dimension when I touch or massage them. That was difficult for me to understand with my undermined self-esteem. Meanwhile, I now can take this feedback with joy.
A very big step for me was to admit that the "wallflower" was very sexual and sensual, well hidden and sealed under all my inhibitions. Now the time had come to get off the brakes and take charge of my life! The training for Sexological Bodyworker was the logical consequence. In particular, the four weeks that we had to spend with "self-pleasuring", were a quantum leap for me. This daily engagement with my body was the key to a loving contact with myself and the "attending" rediscovery of my sensuality. We are sensually born beings. Unfortunately, sensuality all too often is lost through education and social norms.
Life coaching and intimacy coaching have made me realize who I really am. Today, I am proud of my size and my figure. I like what I see when I look into the mirror. I move quite differently, am satisfied with my life and have so many great people in my environment like I never had before.
If you don't already fully accept and love yourself as you are, I can help you be happy with yourself.
Sensual regards,
Klana